Look up current recalls/service campaigns.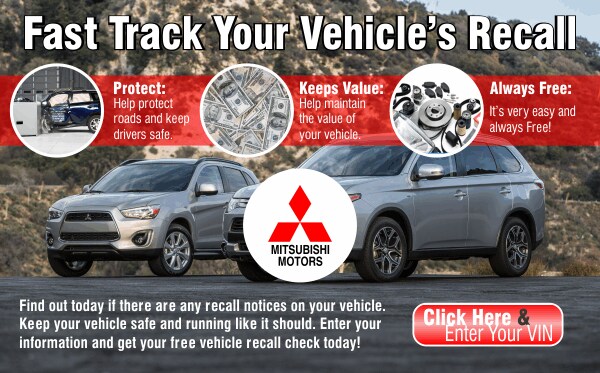 The search tool will return information on applicable recalls/service campaigns with customer notifications made during the last 15 years. For additional information, please contact your authorized Mitsubishi dealer or Mitsubishi Customer Care. 
CLICK HERE
Recalls: Recalls address defects relating to motor vehicle safety, and non-compliances with Federal Motor Vehicle Safety Standards. In the interest of safety, any recall affecting your vehicle should be completed without delay. 
CLICK HERE
Service Campaigns: Service campaigns address product technical issues not directly related to safety or compliance, and also can be emissions-related in scope. Service campaigns should be completed promptly in order to help prevent the problem from occurring in your vehicle. 
CLICK HERE
Enter your 17-character VIN (Vehicle Identification Number) to check if any recall/service campaign applies to your Mitsubishi. Please consult your Owner's Manual for information on locating your vehicle's VIN, or contact Mitsubishi Customer Care for assistance. 
CLICK HERE